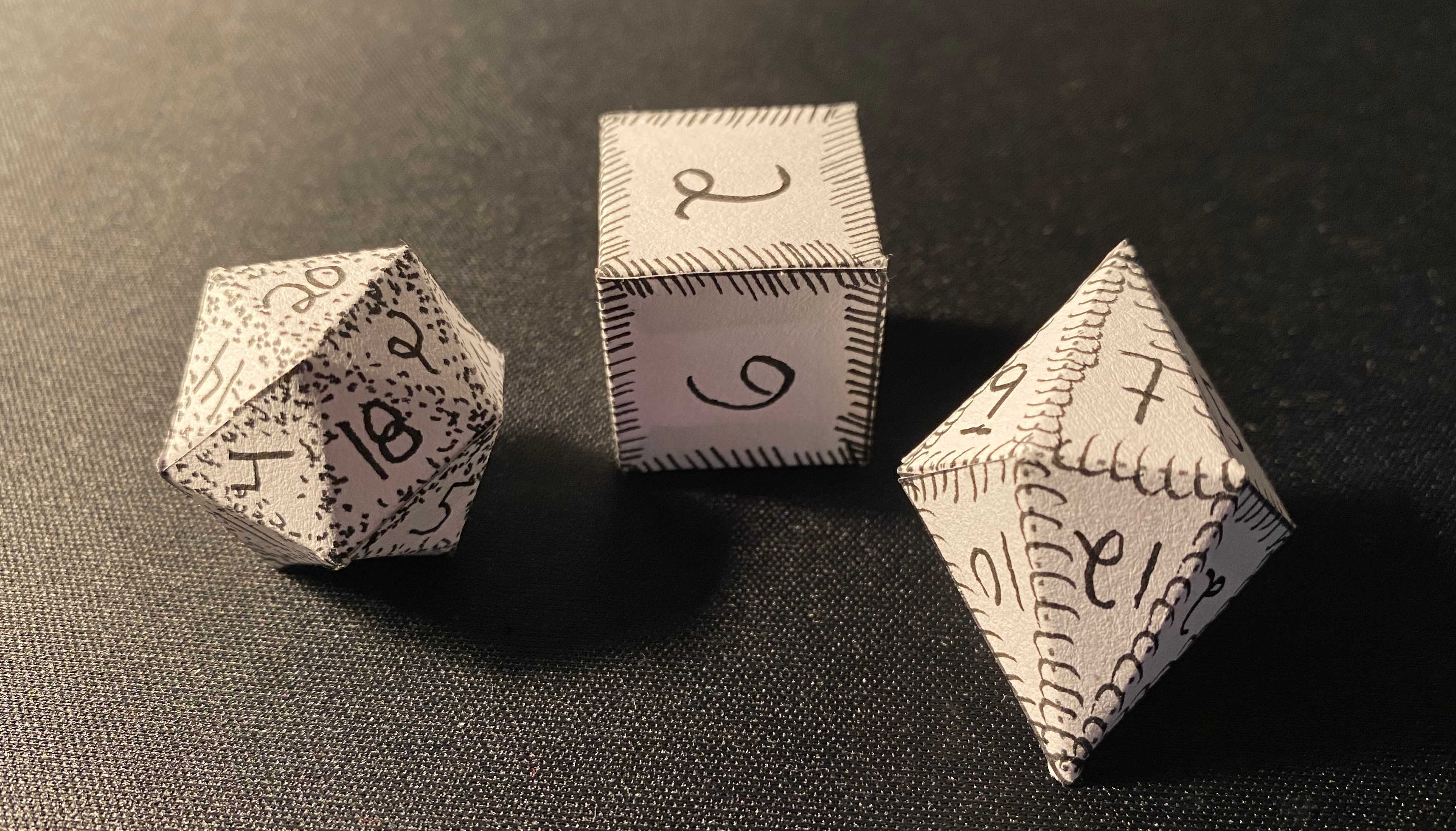 Printable Paper Dice
A downloadable set of paper dice
Paper dice, baby!
Have you ever needed some printable dice? Well you're in luck because you can download 'em right here!

Print 'em with numbers or write your own on the blank set.
Print 'em on pigmented paper.
Draw or paint your own custom dice art.
Print a set and sacrifice it in hopes of infinite high rolls (be eco-friendly)!
Print and color some for your next TTRPG session.
Group dice decorating? TRES MAGNIFIQUE!
Post an image of the ones you decorate in the comments. I would love to see them.
Are the dice fair? ... Life isn't fair, buddy. Slight imperfections in cuts and folds will make the dice not exactly fair. May RNG be in your favor.

I recommend printing on paper greater than 32lb (120gsm), but I used some old sheet music that was ~20lb and it held up well. The PDFs are letter size (standard North American size) so you may need to adjust your printer settings.
6 downloads available:
BLANK small set of dice (1 page)
BLANK large set of dice (7 pages)
BLANK small set of 6 d6 (1 page)
BLANK small set of 8 d20 (1 page)
NUMBERED small set of dice (1 page)
NUMBERED large set of dice (7 pages)
Benefits of paper dice:
Custom art work
Crafts are FUN
Quiet rolling
Extremely lightweight
Does that sucker keep rolling 1s?

Unleash your rage and smash the hell out of it.

Flammable! (Please don't actually catch your dice on fire. I take no responsibility for flaming dice)
Disadvantages of paper dice:
... Are there any?

I mean... flammable I guess...
Instructions:
Adjust your printer settings if needed
Print the PDF
Decorate your dice
Cut along all solid lines
Fold along all dotted lines
Glue or tape in flaps
Number Dice (not needed for numbered sets!)
If you like these dice, please consider leaving a rating! Ratings really go a long way for small creators like myself.
Download
Click download now to get access to the following files:
BLANK large set of dice (7 pages)
3 MB
BLANK small set of 6 d6 (1 page)
1 MB
BLANK small set of 8 D20 (1 page)
1 MB
BLANK small set of dice (1 page)
1 MB
NUMBERED large set of dice (7 pages)
3 MB
if you pay $1 USD or more
NUMBERED small set of dice (1 page)
1 MB
if you pay $1 USD or more